2023 PGA Jr. League
& Junior Lessons
Clear Creek Rookie League – Season Begins June 1st
**This Program is Intended for New Players or Players Ages 8-11yrs**
As part of the Shelbyville PGA Jr. League, this is where learning the game all starts.   For those coming from recent School of Golf in Shelby County Public Schools, and who may still need additional training, this is your first step to becoming a Major League Player.   Major League players will be assigned to the team at Weissinger Hills GC.   If you have not received School of Golf training, that is ok, this league is still the perfect place for you to begin.
Rookie League will play June 1st thru July 15th @ Clear Creek. Practices/Matches Thursdays at 6pm & Saturdays at time TBD.   Each event will last between 45-55 minutes.   More details to follow. *All times are subject to change depending on whether and # of players Rookie League players will not be eligible for post-season all-star play.  Deadline to register May 15th.
FULL & PARTIAL SCHOLARSHIPS ARE AVAILABLE.
Click Here to complete scholarship form.
NO EQUIPMENT REQUIRED TO START.
Please contact PGA Coach Derrick Griffitts for more details at griffitts@pga.com or at (502) 345-3285.  Player Fee Price:  $325 per player
Click Here to Register for Team Clear Creek.
Please visit the PGA Jr. League page at
ShelbyJuniorGolf.com to view full league info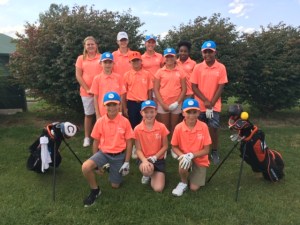 Individual Junior Golf Lessons
Ages 5 & Above
Basic fundamentals, On-Course Play, Rules & Etiquette
No experience required – No equipment required
Lessons run approximately 30-45 minutes depending on age and skill level
$45 per Lesson  –  $200 Lesson Series (5 Lessons)
Instructor – Derrick R. Griffitts, Certified PGA Professional
2021 KY PGA Golf Professional of the Year
2020 KY PGA Youth Development Award
2019 Girls Golf Coach of the Year – Kentucky High School Athletics Association
Contact Coach Griffitts at griffitts@pga.com or (502) 345-3285